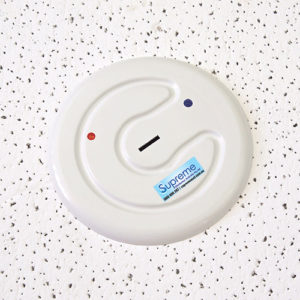 Everything you need to complete the installation including Latching Valve, Strainer, Mini Ball Valve, Template and more.

The Supreme Urinal Water Controller uses passive infra-red sensors to detect approach to urinal.

The Sensor activates a 9 volt Solenoid Valve following detection of a user.

This surface mounted system is designed to be mounted into an existing ceiling tile or gyprock.
Your AWS200 System comes factory programmed to:
• 2 second pre-flush on the system being activated followed 1minute later by main flush for approx. 5 seconds
If alternate settings are required, please advise at time of order.
Your AWS200 Kit will come complete with:
• A totally inclusive kit for compete installation on site (including plumbers tape and nipples)
• Colour Instruction booklet covering Installation, Operating and Troubleshooting
• Spare parts & Warranty information
Locating the Sensor (refer to diagram 2)
• A narrow 50cm beam reduces the risk of phantom flushing with a 3 metre range
OPTIONAL: 1 sensor can operate 2 valves (power operation is recommended, refer to diagram 4)